Skip to Main Content
It looks like you're using Internet Explorer 11 or older. This website works best with modern browsers such as the latest versions of Chrome, Firefox, Safari, and Edge. If you continue with this browser, you may see unexpected results.
Citation Generators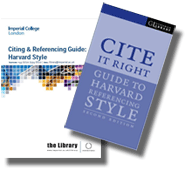 Available for Windows and Mac
Usually web based
Use web forms to take input and format the output according to the citation style selected
Some types can store citation data for later use
May offer only a limited number of citation styles
Cost:
Sente
Available for Mac
Automatically sync your Mac library and your iPad
Organise and tag references
Create and save notes with your articles
Cite papers and format references
Bulk searches allow you to automatically retrieve hundreds of references and alert you daily to new references.
Cost:
Free 30 day trial available
Subscription required for ongoing use
Student discounts available
Citeulike
Web based
Based on Social Bookmarking
Organise references through tags
References can be exported using BibTeX or RIS (compatible with Endnote, Refworks, Zotero etc)
Create shared bibliographies
Cost:
Other tools
There are many other online reference management tools available. Although ITS and the Library do not support these tools, you may still wish to consider them. Some have been made freely available, while others require a subscription.
Reference Manager
For Windows
AKA Refman
Add and organise PDFs
Web pubishing tool and built-in web server
Cite papers and format references
Purchase the network version to share databases and collaborate
Cost:
Free trial available
Subscription required for ongoing use
Student discounts available
Papers
Available for Windows and Mac
Also available for iPhone, iPad, and iPod.
Organise references and PDFs
Create and save notes with your articles
Cite papers and format references
Search article repositories and download articles
Cost:
Free 30 day trial available
Subscription required for ongoing use
Student discounts available
LaTeX
Available for Windows and Mac

Typesetting program used to format scientific documents

Gives control over large documents containing sectioning, cross-references, tables and figures

Typically used with BibTeX to format lists of references


Departments which require students to use LaTex may offer support - check with the departmental administrator

Cost
Qiqqa
For Windows
Syncing across multiple machines
Organise and tag PDFs
Annotate PDFs and create mindmaps of your thoughts
Cite papers and format references (uses BibTeX)
Google like full text searching of your library
Cost: